Got skills? Want a job? What about freelancing?
You've come across the term freelancing, but maybe you're not quite sure what it is, if you could do it, or how to do it? So, let's explore freelancing in more detail and then you can decide if you want to give it a try. I can tell you right now, I know that you have what it takes to be a freelancer. To get a job with freelancing you just need to spend time and effort on it.

The question is, do you want to be a freelancer?

If you think freelancing isn't for you, keep reading anyway, and learn how you can use the support of freelancers to help you get the job and career you want to have.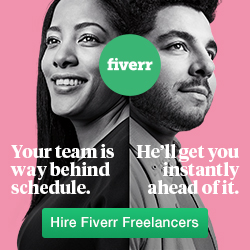 What is freelancing?
Freelancing is basically working for yourself at the same time as doing work for others. Right now you have a set of skills, knowledge, and experience that you can use to generate work for yourself. This could be in addition to your existing job or, if you don't currently have a job, this could become a full or part-time source of income.
So, what are you good at?
Reading and writing
Speaking and listening
Art and design
Finances
IT and computers
Social media
Modelling and acting
Photography
Voice-overs
Sound and video production
Maybe something else?
Whatever it is you are good at, you can turn that skill into an income.
How do I turn my skills into an income?
You turn your skills into an income by becoming a freelancer. The first thing you need to do is decide what products and services you can and want to offer people. Then you sign up to some freelance platforms, advertise your services, and start applying to work on projects. It honestly can be that simple.
Make a plan
Spend at least some time making a plan. Are you going to trade using your name or do you want to trade using a business name? Are you going to have a website or social media accounts to help promote your freelance work? Do you have a bank account set up where you can receive payments?
None of this has to take a lot of time. Open up a word processing document or spreadsheet, or get a piece of paper and a pen, and start making a plan. If you put the effort in you can come up with a good plan in just a few hours.
Register with some freelance websites
Once you have made your plan then you are ready to start putting yourself out there and getting work. It might seem daunting, but just go at a pace you are comfortable going at. Check out some of these websites below. Sign up on these websites and start advertising your products and services as well as applying for job opportunities.
Pros of freelancing
Depending on the products and services you provide some of the benefits of becoming a freelancer include:
Managing your own time and workload.
Being able to work remotely and work when you want.
Working on projects you are interested in.
Take annual leave whenever you want.
Potential to work across several sectors and industries.
Potential to work alone.
Cons of freelancing
Freelancing obviously has it's potential downsides. But these aren't guaranteed. You just have to make sure you work hard and smart so that they don't have a negative impact on what you are doing.
No guarantee of work and income.
No sick pay or annual leave entitlement.
No discount benefits like you might receive at other employers.
Responsible for your own finances and tax.
Potentially work alone.
Competition, standards, and style
Remember, when you start freelancing you are going to be competing against a lot of other people for work. That's fine, competition is good for business. It means that customers are offered a range and variety of products and services, in a whole bunch of different styles. Sometimes a product or service isn't necessarily better than another, it's just in a different style. And sometimes the style that someone else is offering appeals to people more than the style you are offering, and vice versa.
So whatever it is you do, it has to be something you know you can do well and to a standard that people are looking for. This means that you can provide the service at a speed people are happy with and to a quality that people are happy with.
Be and stay organised
When the work starts coming in you need to be able to manage this. You could get a freelance virtual assistant to help you do this. They can manage things like you diary, your workload, and your client database. But the main thing to focus on is being organised.

If that means rearranging your house to create an office space, buying some folders to store important paper in, or setting aside a specific time everyday to look at your finances then do it. If you put these healthy working practises in place at the start then everything will be much easier in the long run.
Website, social media, and email address
Having a website and social media accounts isn't vital but, done well, it can help a lot. So consider getting a website and social media page. At the very least get a separate email address that you can use for your freelance work. Remember it's all about being and staying organised.
Health and wellbeing
Just remember, there is a balance to all of this, make sure you don't burn yourself out trying to please too many people. You need your clients as much as they need you. So, remember to take care of your health and wellbeing. This might mean that sometimes you have to turn away work. But if you find yourself getting to the point where you are having to turn work away, this is the point where you can start thinking about growing your workforce and having people work with you.
Just be sure to check in with yourself from time to time and make sure you feel ok. If you think you don't then seek some professional help.
Keep on learning
If you are going to maintain your work as a freelancer you have to be prepared to keep learning. Learning new skills and technologies will help you stay up to date with culture and fashion. But also you need to learn the needs of your customers. These are the people that will keep you in work. At the end of it all remember business is a simple matter of supply and demand. So make sure you are attentive and learn what their needs are so that you can supply their demand.
Give it time to work
Becoming a freelancer doesn't always happen overnight. If you find that no one wants your services or no one is selecting you to work on their projects don't give up. It just means that your style isn't necessarily the right fit at the moment. It could take weeks or even a few months to start generating the sort of income you are hoping for.
Try and get some feedback and reviews
Feedback 'good' and 'bad' is good. Because it means you can learn from it and use it. Good feedback is helpful to show others that you are capable of doing a good job and bad feedback is simply an opportunity to learn. Remember people are entitled to an opinion. Sometimes it isn't right or wrong, it's just different. Everyone isn't always going to agree on the style that something should be done in.
Summary of key points
Make a plan.
Decide on the products and services you are going to offer.
Register on some freelance platforms like Fiverr, SEO Clerks, Truelancer, and Bark.
Advertise your services and start applying to work on projects.
Keep learning and improving what you do.
I want a job but I don't want to be a freelancer
Perhaps you don't think freelancing is for you? But you still need and want a job? Well, maybe hiring a freelancer would help you get a job? If you know you want to hire a freelancer to help you with something start by registering with one of these freelance websites:
Fiverr
SEO Clerks
Truelancer
Bark
There are lots of parts that make up the process of getting a job. All the way from searching for a job to being offered employment. You have to find a job vacancy, you have to create and then submit a CV/Resume and cover letter or job application. Then you have to attend an interview and maybe do a presentation or a test. Then hopefully at the end of it all you get offered a position. And if you don't, then you have to do it all over again. It can be very draining and time consuming.
On JAWS Job Search there are lots of helpful articles to guide you through some of the important parts of getting a job. And better still, to save you time, effort, and energy there are lots of great links to freelancers that you can hire to help you do or improve parts of the job searching process:
Career Planning
Job Searching
CV and Resume Writing
CV and Resume Design
Cover Letter Writing
Personal Statement Writing
Job Application Support
Interview Preparation
Now, if you need some support with one, several, or all of these parts of the process then you need to go out and get it. Get someone else to do it for you or help someone teach you to do it for yourself.
So, whether you want to BE a freelancer or HIRE a freelancer you need to get signed up on some freelance platforms to get started. You might make some mistakes on the way, you might not. But you can take control of your situation and what you want to do. Check out these websites today. Good luck.
Register on these websites and get started
We all need to make a living, but not everyone wants to be a freelancer. Some of us have a clear goal of working for a particular organisation in a specific role. Some of us are still trying to figure out what it is we want to do. If you need some help coming up with ideas or want to just make the job searching process a little bit easier take a look at the JAWS Job Search portal. This is an ever growing list of helpful links to the recruitment pages of organisations all over the world.
Remember, not every organisation accepts CVs and cover letters direct from applicants or via job agencies. Sometimes in order to work for an organisation you have to apply for vacancies via their online recruitment portal. JAWS Job Search has weblinks that take you directly to these recruitment pages.
So, if you are looking for a job or want to find something new then check it out now.
What is my freelance experience?
For over a year I have been the lead article writer for a language and linguistics magazine called Silly Linguistics Magazine. Using my skills, knowledge, and experience of coaching and psychology I have written articles on a whole range of subjects to help with studying and learning languages and linguistics. Specifically, all of my articles about learning language and linguistics have used a model based on mnemonics as their foundation.
If you want to read some of my articles you can view them on my website www.chrisdavy1985.com

I have also written two books centred around the subject of mnemonics. Both books are available to buy in eBook and paperback on Amazon.
S is for… Something: Short, sweet, simple, silly, serious, stupid, smart, self-help.
S is for… Short, sweet, simple Sports Coaching and Performance: For parents, players, and pedagogues.
Please share this article
If you've found this article informative and helpful please share it with others so that they can get the same benefits from it that you have. And if you think it sucks, then let me know. As I said, all feedback is good feedback.
Peace,
Chris